10 Fun Things To Do Week of June 14th: BBQ, Junk Food, Live Music and MORE!
OnSanAntonio.com proudly presents our newest feature, FUN10, a list of the top 10 things to do in San Antonio this week, and every week! Every Sunday, we'll drop a new FUN10, to give you a head start on your week and a heads up on what's going on over the coming seven days. Check out FUN10 every Sunday for the details on ten awesome events happening around town. It's a cool read, and a great way to get started planning your entertainment for the week.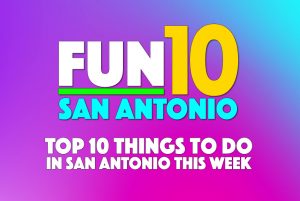 Due to the cancellation of so many regularly scheduled events in San Antonio – with more coming in every hour – we're focusing this week's edition of Fun10SanAntonio on fun entertainment you can enjoy in the safety of your own home or while practicing safe 'social distancing' as the state begins the process of opening back up.
FUN10 — ten ways for you to have fun in San Antonio, this week and every week, running every Sunday, only on your site for fun, free, local entertainment, OnSanAntonio.com!
So what's on the FUN10 for this week? Read on …
Plant Based Junk Food in San Antonio
Vuture Food is coming from Los Angeles for a special vegan comfort food pop up, Plant Based Junk Food, on Monday Jun 15 from 2 – 7 p.m. at Roadmap Brewing Co. (723 N Alamo San Antonio).
Staff will be wearing gloves and face masks, there will be social distancing, all menu items will be placed in to-go containers only. Roadmap will also be offering all their brews as a to-go option as well.
All of Vuture Food's items are Free of Nuts. They cook everything in soy oil. All of their loaded fries are made with GF ingredients however they are fried in the same fryer as our patties which contain wheat.
Menu will be posted week of. Feel free to post any desired menu items so we can get an idea of what to bring.
For more information, please visit https://www.facebook.com/events/3104095259629870/.
Sustainable Landscapes
Join Eco Centro online for Sustainable Landscapes this Thursday Jun 18 from 10 a.m. – 12 p.m.
Register now for the link to this FREE online workshop: https://www.eventbrite.com/e/106665180426
Design and implement landscapes that work. Learn valuable techniques to develop landscapes that are made to last and function sustainably with local ecosystems. A properly designed sustainable landscape should be beautiful and eco-friendly while saving resources and requiring minimal maintenance. Keep water on your property, reduce localized flooding, manage stormwater flows, design for conservation and reduced water use and even attract pollinators.
This workshop qualifies for 1 SAWS WaterSaver Rewards Point.
Rob Sturgis Band Freedom Pro Jam
The Freedom Pro Jam continues this Thursday Jun 18 from 1:30 – 4:30 p.m. at Las Chiladas (2387 NW Military Way San Antonio), which lets us show our patriotism as the nation emerges from our lockdown quarantine.
The Rob Sturgis Band is hosting and reasonable social distancing will be practiced – so you must bring your own guitar, drum sticks, microphone if you would like to participate, but in any event, come for a late lunch, dinner, or early supper.
For more information, please visit https://www.facebook.com/events/882393198950842/.
Membership & Season Pass Preview at Six Flags
Who's ready for thrills?
Six Flags Fiesta Texas re-opens to the public beginning June 19! Members and Season Pass Holders have exclusive preview days of June 19-21. We've implemented new safety measures and hygiene protocols, including new technology systems to protect our guests and employees. It's time to get reacquainted with the Thrill Capital of South Texas!
Pass Holder & Member Schedule
June 19 | 4pm-9pm | Diamond/Diamond Elite Members Only
June 20 | 10:30am-9pm | All Members & Season Pass Holders
June 21 |10:30am-9pm | All Members & Season Pass Holders
Reservations open for:
Diamond & Diamond Elite Members |Thursday,  June 4 at 10 am
All Members | Thursday, June 4 at 6 pm
All Members & Pass Holders | Friday, June 5 at 10 am
All Members, Pass Holders, & Ticket Holders | Friday, June 5 at 6pm
**Have your Pass or Membership card handy and Make Your Reservation now**
Our reopening plan, which was developed in consultation with epidemiologists, meets or exceeds federal, state, and local guidelines for sanitization, hygiene, and social distancing protocols.
-Health Screenings for Guests and Team Members
-Strictly Enforced Social Distancing
-Extensive Sanitization and Disinfecting Protocols
-Sanitized Food Preparation and Service
-Commercial-Grade Cleaning Equipment and Supplies
-Multi-Layered Guest and Team Member Communication
-Park Reservations System to Manage Attendance
**Reservations Required**
To assist with our social distancing guidelines and attendance flow, we're employing an online reservation system to schedule guests for entry by day and to stagger arrival times to minimize proximity exposure. The process takes 5-7 minutes and includes the following steps:
-Enter your online order number, ticket number or Membership/Season Pass number
-Select the day and the approximate time you want to visit
-Watch a brief video describing new social distancing and sanitization procedures
-Acknowledge your understanding of the company's health policy
-Order pre-paid parking, if they do not already have a parking pass
Los Callejeros de San Anto at The Aquaduck Beer Garden
Los Callejeros de San Anto returns to The Aquaduck Beer Garden (9214 Espada Rd. San Antonio) this Friday Jun 19 at 9 p.m. Abuela approved!
Established in 2018, The Aquaduck is San Antonio's new premier beer garden offering a nice selection of beers, margaritas, wines, and specialty drinks.  Additionally, our grounds are set within the San Antonio Mission Trails and historical Aqueduct district.  Come enjoy yourself, your family & friends, and ice cold drinks with mother nature.
For more information, please visit https://www.facebook.com/events/2742032925833400/.
The Awakening Heads to The Rock Box
Do you need some live music in your life? Then head to The Rock Box (1223 E Houston St. San Antonio) this Friday Jun 19 for an awesome lineup of entertainment. Doors open at 6:30 p.m. Admission for minors is $15 and 21 and over is just $10.
Check Out:
THE AWAKENING
Deadset
Sugoi Anders
Freezagang ENT- Tazz X BigboyJess X YoungboyUub X  Iss Apex  X Isaac Whoo
Dee James
PyroCo
Jay Preach
Cosmictoya X D. Jacobs
Creep
Bobby Mack
Isaiahbrokn
Wicked Twistt
Ygb Chuky
Emotional BRATS Forever – Boy Toys Elegy / Ill Jaeden / RTG
Ivytheterrible & SORAthaMOON
yungshxdow & Dj $paz
VENUE RULES:
Please use face covering (Mask) – Masks may be removed once at the table.
Practice Physical Distancing
We will conduct Temperature Checks
We will Provide Hand Sanitizer for your use
Areas of no more than 10 people
All Parties should always maintain at least 6ft of distance from other Parties
Please limit close contact.
Please Sanitize Hands upon entry and designated areas. (provided by venue)
No Standing at the Bar.  Place your orders at the tables
For more information, please visit https://www.facebook.com/events/612422286332024/.
Chicago at Woodlawn Theatre
See Catherine Zeta-Jones, Richard Gere, and Renee Zelwegger in the six-time Academy Award-winning film Chicago on the Woodlawn Theatre mainstage this Friday June 19 at 7 p.m. All tickets are $10 each.
RATED: PG-13.
The historic Woodlawn Theatre is marking 75 years of entertaining the San Antonio community this year. In celebration, we're turning back the clock and revisiting our days as a grand movie theatre this summer. For five Fridays, Woodlawn Theatre will show popular musical films on our indoor big screen with proceeds to benefit Woodlawn Theatre and Woodlawn Theatre Academy.
To comply with the state's COVID-19 measures, Woodlawn Theatre will not exceed 50% capacity for each Summer Movie night. All tickets are general admission and you must print your ticket at home in advance and bring it with you or have it ready for viewing via a smartphone upon entering.
Seating begins at 6 pm and all theatre patrons over the age of two must wear a face mask to enter the premises.
Celebrate 75 years with us and experience a movie at Woodlawn Theatre this summer!
Purchase your tickets here.
The Psychoholics & Black Molly at Fitzgerald's Bar
Ready to venture out and enjoy some live music this weekend? Well then, you're in luck.
Experience The Psychoholics and Black Molly at Fitzgerald's Bar & Live Music Venue (437 McCarty Suite 101 San Antonio) this Saturday Jun 20 from 8 p.m. – 2 a.m.
This 21 and up event has a $10 cover.
Don't miss these two awesome San Antonio bands this weekend!
For more information, please visit https://www.facebook.com/events/580120822908171/.
BBQ, Beer and Cocktails!
BBQ, Beer & Cocktails back again by popular demand!
Head to Ranger Creek Brewing & Distilling (4834 Whirlwind Drive Suite 102 San Antonio) this Saturday Jun 20 from 12 – 7 p.m. for some BBQ, Beer and Cocktails!
Limited indoor seating (50%), Beer Garden open (outdoor), and To-Go Service available.
#SoTexBBQ will be joining with their mesquite smoked brisket, unique Smoked Pork Tamales and amazing Borracho Brisket Beans.
For more information, please visit https://www.facebook.com/events/745075346236833/.
Alamo Heights Farmers Market
Alamo Heights Farmers Market is now open every Sunday from 10am-2pm at the Alamo Quarry Market near Whole Foods (255 E Basse Rd. San Antonio).
Enjoy live Music every week! Find fresh local produce, plants, fermented foods, natural skin care products, pressed juices, all-natural dog treats, chocolate, Brazilian baked goods, breakfast tacos, chili, aguas frescas, coffee, and more!
For more information, please visit https://www.facebook.com/events/762467450878538/.
Stay tuned to OnSanAntonio.com, your site for fun, free, local entertainment for upcoming events in our weekly column, FUN10, every Sunday!
#Fun10SanAntonio
Tess Abney is a freelance writer who was born and raised in the Quad Cities. She spends most of her time attempting to successfully raise three boys. In her free time, writing is her passion. Whether it is sharing local events and businesses with readers or sharing her thoughts on life, she finds comfort in the way words can bring people together.