10 Fun Things To Do Week of June 21st: Renaissance Fest, Outdoor Movies, Music and MORE!
OnSanAntonio.com proudly presents our newest feature, FUN10, a list of the top 10 things to do in San Antonio this week, and every week! Every Sunday, we'll drop a new FUN10, to give you a head start on your week and a heads up on what's going on over the coming seven days. Check out FUN10 every Sunday for the details on ten awesome events happening around town. It's a cool read, and a great way to get started planning your entertainment for the week.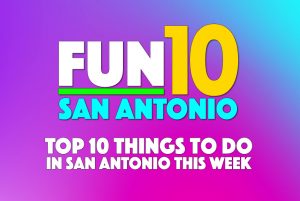 Due to the cancellation of so many regularly scheduled events in San Antonio – with more coming in every hour – we're focusing this week's edition of Fun10SanAntonio on fun entertainment you can enjoy in the safety of your own home or while practicing safe 'social distancing' as the state begins the process of opening back up.
FUN10 — ten ways for you to have fun in San Antonio, this week and every week, running every Sunday, only on your site for fun, free, local entertainment, OnSanAntonio.com!
So what's on the FUN10 for this week? Read on …
Strfkr with The Undercover Dream Lovers
Margin Walker Presents: Strfkr with The Undercover Dream Lovers, live at Paper Tiger (2410 N Saint Marys St. San Antonio) this Monday Jun 22 at 7 p.m.
Sign up for the artist pre-sale at strfkr.com
Follow STRFKR:
Website – https://strfkr.com/
Facebook – https://www.facebook.com/Starfucker/
Twitter – https://twitter.com/starfucker
Instagram – https://www.instagram.com/strfkr_music/
–The Undercover Dream Lovers–
Spotify: spoti.fi/2TAMnck
"Come Home" bit.ly/38jg8ni
Composting Basics
Join Eco Centro online this Tuesday Jun 23 from 6 – 8 p.m. for Composting Basics.
Register now for the link to this FREE online workshop: https://www.eventbrite.com/e/104689906328
Composting is one of the best ways to reduce our own waste, produce new life for plants, drastically improve soil quality, increase moisture retention, and so much more. Closing the waste loop is critical to becoming more sustainable, and it is super easy to do! Participants will learn about various composting methods that can be done at home and how to decide which method suits your lifestyle best by exploring in-depth variables of each method.
This workshop qualifies for 1 SAWS WaterSaver Rewards Point.
For more information, contact us at sac-ecowater@alamo.edu or call 210-486-0417.
Talladega Nights: Free Outdoor Movie
Join Slab Cinema at Hermann Sons Rathskeller Bar (525 S St Marys St. San Antonio) for a Free Outdoor Movie this Thursday Jun 25 from 8:30 – 11:30 p.m.
Talladega Nights will be shown outside on the building wall. Bring your own chairs! Beverages will be available.
For more information, please visit https://www.facebook.com/events/2934481139998143/.
EDM Drive-In
San Antonio's first ever EDM Drive-In takes place this Friday Jun 26 at the Freeman Coliseum (3201 E Houston St. San Antonio).
EDM Drive-In is San Antonio's first homegrown drive in music festival created to spread the positive vibes of our existence through our love of electronica music. The Electric Fiesta San Antonio team welcomes you with open arms to grab your family and friends to experience what we all have been missing for far too long…….each other. Carpool. Drive Safely. Designate a Driver.
All CDC and State of Texas guidelines will be followed, and we are working closely with Bexar County and the City of San Antonio to ensure this event meets or exceeds all recommended standards. We will leave at least every other parking space empty to ensure sufficient distance between you and surrounding vehicles. We ask that all guests remain in their vehicles or designated areas for the duration of the performance. In the event it is necessary for a fan to leave their vehicle, safe social distancing will be strictly enforced. Failure to follow safe social distancing, or requests of staff members for participants to follow, will cause the participant to be subject to ejection. Event staff will be wearing personal protective equipment as required by CDC guidelines.
For more information, please visit https://www.edmdrivein.com/.
Kurt Travis, Andres & Donovan Melero Solo Sets
Get your live music craving fulfilling this Friday Jun 26 from 6 – 11 p.m. at The Rock Box (1223 E Houston St. San Antonio).
Enjoy live acoustic jams from Kurt Travis, Andres and Donovan Melero. Tickets are just $14 in advance and $16 on the day of the show.
A portion of all ticket sales to go Boys and Girls Club Texas Alliance.
For more information, please visit https://www.facebook.com/events/307077276954455/.
She Wears Bells
Jump-Start Performance Co. presents an INKubator production, She Wears Bells. This Aztec Operetta is by Jo Reyes-Boitel.
She Wears Bells follows the story of the Aztec god Coyolxāuhqui  who lost her place as the god of war in a battle with her brother, was dismembered and then exiled to the moon.
Is Coyolxauhqui seemingly dead or can she transform into the god she needs to be in order to claim a new legacy?
Performances will be prerecorded and streamed online via zoom, Friday, June 26, 2020 and Saturday, June 27, 2020 at 8pm.
Tickets can only be purchased online and are "choose what you pay" $0, $5, $10, $15
Zoom link and password will be emailed after purchase is complete.
Featuring:
Joaquin "Muerte" Abrego (percussion/Chorus)
Giomara Bazaldua (Choreographer/Actor/Dancer)
Ceiba ili (Flutes/Marimba)
Jaime Ramirez (Piano/Marimba/Chorus)
jo reyes-boitel (she/her/they) (Creator/Actor/Writer)
Bianca Sapet (Primary Vocalist/Chorus)
Lilith Tijerina (Lighting Designer)
Jess Hawkins (Co-Director, Production Lead)
Joyous Windrider Jiménez (Co-Director, videographer)
Barbie Hurtado (Technical Development)
Curated playlist by Bonnie Ilza Cisneros (aka DJ Despeinada)
Jump-Start's INKubator program invites a San Antonio artist or arts collective to create a performance work, offering support in the form of a rehearsal and performance space, technical assistance, a modest stipend and the Critical Response Process.
For more info email inkubator@jump-startperformanceco.org or call 210-227-JUMP
Jump-Start Performance Co. is dedicated to the discovery and support of new ideas in the arts and arts education. By encouraging visionary thought and non-traditional approaches, Jump-Start is committed to the creation of art that is a lasting voice of diverse cultures and communities.
Visit https://www.facebook.com/events/707081906777323/ for more information.
Quarantine Date Night: Painting with Cruz Ortiz
Join San Antonio Missions National Historical Park for Quarantine Date Night this Friday Jun 26 from 6 – 7 p.m. online!
Order your take-out or delivery and settle in at home for a live painting demonstration with our 2020 Artist-in-Residence Cruz Ortiz. Cruz will be painting in his studio and broadcasting live on the San Antonio Missions National Historical Park Facebook page!
This program is free. The Artist-in-Residence Program at San Antonio Missions National Historical Park is generously supported by Mission Heritage Partners.
For more information, please visit https://www.facebook.com/events/263996761334544/.
Bamboleo Latin Friday Nights
Bamboleo Latin Nights takes place inside Garden Nightclub each and every Friday. Fridays are unique, sensual and full of energy! Join us especially if your into Salsa, Reggaeton or just looking for the best Latin sounds in the Stone Oak area. Resident DJs mixing the best Reggaeton, Salsa, Merengue, Bachata, and plus much more.
We also provide unique House Specialty Drinks and Specials All Night. That means you don't have to break the bank to afford a night of parting with us.
For more information, please visit https://www.facebook.com/events/448951675992666/.
Masked Spring Renaissance Fest
Live Music, Knights, Vendors, Food Trucks, Dance Troupes, Art Show,  Children's Activities, Costume Contest, Sooth Sayers, Henna, and more!
All in the heart of San Antonio!  8910 Callagan Rd. 78230
Near the intersection of I10 and 410 and Wonderland Mall.
FREE entrance with a San Antonio Food Bank donation
The Spring Renaissance Festival will take place June 27th and 28th, 2020. This will be a clean and safe place for you and your family. We are following the city and state mandates, as well as our own. Vendor booths will be six feet apart, we will have hand-washing stations, and you must have a mask on to enter the premises. We will have a food court where you may sit to dine. Walking around with food and no mask is prohibited.
We're offering vendors the chance to supplement their livelihood as well as giving our community an opportunity to get out of the house and have some safe fun! Archery tag will be part of the fun at this event! Again, all safety and cleanliness measures will be taken.
We will have live music throughout both days of the festival! Rod Campbell will be joined by other musicians to give us traditional music as well as some of your favorites. Don't forget to show your appreciation and tip them!
As with all of our festivals, entrance is free with a donation to the San Antonio Food Bank. Packaged, canned, or $5 per family.
There will be a costume contest, daily, as well as a mask contest! Who will have the coolest masks?
Please click on the link below for more information and click on 'Going' then 'Invite' your friends!
https://www.facebook.com/events/1448365095287058/
Jeff Woolsey at Martinez Social Club
Looking for some fun-filled Saturday night plans?
Head to the Martinez Social Club (7791 FM 1346 San Antonio) this Saturday Jun 27 from 8 – 11:30 p.m. with Jeff Woolsey.
For more information, please visit https://www.facebook.com/events/205254410548281/.
Stay tuned to OnSanAntonio.com, your site for fun, free, local entertainment for upcoming events in our weekly column, FUN10, every Sunday!
#Fun10SanAntonio
Tess Abney is a freelance writer who was born and raised in the Quad Cities. She spends most of her time attempting to successfully raise three boys. In her free time, writing is her passion. Whether it is sharing local events and businesses with readers or sharing her thoughts on life, she finds comfort in the way words can bring people together.