10 Fun Things To Do Week of June 7th: Dinosaurs, Dawgs, Dredgefest and MORE!
OnSanAntonio.com proudly presents our newest feature, FUN10, a list of the top 10 things to do in San Antonio this week, and every week! Every Sunday, we'll drop a new FUN10, to give you a head start on your week and a heads up on what's going on over the coming seven days. Check out FUN10 every Sunday for the details on ten awesome events happening around town. It's a cool read, and a great way to get started planning your entertainment for the week.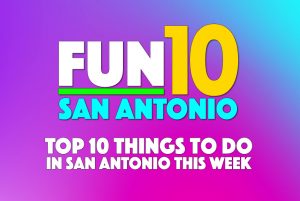 Due to the cancellation of so many regularly scheduled events in San Antonio – with more coming in every hour – we're focusing this week's edition of Fun10SanAntonio on fun entertainment you can enjoy in the safety of your own home or while practicing safe 'social distancing' as the state begins the process of opening back up.
FUN10 — ten ways for you to have fun in San Antonio, this week and every week, running every Sunday, only on your site for fun, free, local entertainment, OnSanAntonio.com!
So what's on the FUN10 for this week? Read on …
Outdoor Movie Night at The Good Kind
Slab Cinema is partnering with The Good Kind Southtown for our first post-COVID19 outdoor movie screening. To ensure safe social distancing, all seating is ticketed. You can reserve a seat for $6, or reserve a 6-top table for $30. Film starts at dusk.
We are really hoping that this event works well for everyone, so please support The Good Kind Southtown. You can order for pick-up in advance or arrive early to ensure your meal is ready. https://www.eatgoodkind.com/
Roger Ebert wrote ""Detour" is a movie so filled with imperfections that it would not earn the director a passing grade in film school. This movie from Hollywood's poverty row, shot in six days, filled with technical errors and ham-handed narrative, starring a man who can only pout and a woman who can only sneer, should have faded from sight soon after it was released in 1945. And yet it lives on, haunting and creepy, an embodiment of the guilty soul of film noir. No one who has seen it has easily forgotten it."  https://www.rogerebert.com/reviews/great-movie-detour-1945
Yoga Under the Stars at the Historic Pearl Brewery
A view of the beautiful night sky and a magical experience await you at Yoga Under the Stars!
Nomadik Yoga will guide you through an intentional Vinyasa Yoga flow that will challenge you physically and mentally, but leave you feeling accomplished and relaxed.  You will learn to cultivate inner peace and focus as you take in the sights, sounds, and smells of the outside setting at Pearl Plaza at the beautiful Historic Pearl Brewery.
We will pay special attention to basic poses and alignment, making this a great class for beginners and experienced yogis alike. The class will end with Savasana to relax the body and mind.
Our vision at Nomadik Yoga is to create community and make the practice of Yoga accessible to all.  We support entrepreneurs, local musicians and yoga instructors for the energy they share with us.
Date – See a current schedule at www.nomadikyoga.com
Time – 9:00 to 10:00 PM
Class Cost: Free
Registration is limited to 60 participants. Unfortunately once all of the spots are taken, we will no longer be able to accommodate you and we do not maintain a wait list for sold out Yoga Under the Stars events.  Available spaces will be shown at www.nomadikyoga.com
Suggested: Bring a yoga mat, towel, water bottle, and any of your favorite props. And of course, your magical self!
Attire: Yoga Pants, Sweat Pants, Leggings, Sweaters, Scarves, Jackets, and an optional blanket for Shavasana (Deep Rest/Final Resting Pose)
Classes subject to be cancelled due to inclement weather or if The Pearl is having an event. Please stay updated through:
Facebook – NomadikYoga
Instagram – @NomadikYoga
Website – www.nomadikyoga.com
Where My Dawgs At? A Virtual Yappy Hour
Join Texas Public Radio, Dog Friendly San Antonio, Mike's Dog Store, Tucker's Kozy Korner, and Tito's Handmade Vodka, on Thursday, June 11, from 6pm to 7pm for a virtual craft cocktail demo, some K9 cinema trivia, and help pick our favorite #derpydog trick, as we gather for an hour of online pooch pandemonium 😉
*Please note, this virtual meeting room is limited to 100 people, and participants must be 21+ years old
To join, simply grab your RSVP ticket and you'll receive an invite to our virtual zoom meeting 48 hours prior to our gathering.
About the Cocktails we'll be making:
(hint-hint, get your ingredients ahead of time!)
The Regal Beagle
1 1/2 oz Tito's Handmade Vodka
1/5 oz dry white wine, 5 oz grapefruit juice
2 lime slices, 1 tsp honey, rosemary sprig
American Bulldog
Tito's Handmade Vodka 1/2 oz
fresh squeezed lime, 3 oz ginger beer
fresh blueberries, lime slice, *copper mug
About the Trivia Game:
This will be a 25 minute, and very casual, break-out group trivia game. (For fun, our teams will be randomized to encourage chatting with some new furry friends!) We'll have some easy, and not-so-easy, k9 cinema questions with fun prizes (courtesy of Tito's – Vodka For Dog People), that will be awarded to our trivia winners and a few 'best of' categories 😉
A grand prize will be also be awarded for your best #DerpyDogTrick! To enter: Post a video of your Derpy Dog Trick with the hashtag #DerpyDogTrick on this event page! We'll announce our winner at the end of our yappy hour!
Visit https://www.facebook.com/events/1130303840660141/ for more information.
See you dawgs there!
Jurassic Quest Drive-Thru
Our dinosaurs are ready for a RAWRIN' comeback, and we're kicking it off in SAN ANTONIO, TX for the FIRST EVER JURASSIC DRIVE-THRU!
Our exhibit has been transformed into an interactive drive-thru experience, featuring over 70 MOVING and ROARING dinosaurs, as well as our 50 – foot – long Megalodon! Although the drive-thru experience means you'll stay safe inside your vehicle, you'll still need to watch out for the swinging tail of our 80 – foot – long Spinosaurus!
BE THE FIRST to go on a quest with our online audio tour that will take you throughout our exhibit where you will encounter some of the largest dinosaurs to ever roam the earth, and some of the eeriest marine creatures to ever lurk the ocean's depths!
Come join us at the Freeman Coliseum on
June 12-21, 2020!
Time slots and hours will vary by day. Tickets are good for entry at any time during your time slot.
Tickets will be sold ONLINE ONLY. Tickets will not be available for purchase at the gate.
CLICK THE LINK BELOW TO FIND TICKET PRICES AND PURCHASE TICKETS ONLINE:
https://www.jurassicquest.com/events/drive-thru-san-antonio-tx
Come see Jurassic Quest's first drive-thru edition, featuring some of the largest & most realistic dinosaurs in North America!
Our drive-thru edition features:
-A drive-thru quest, which includes over 70 dinosaurs that are true-to-detail (and size)!
-Your own personal audio tour guide will accompany you throughout the journey!
-Our incredibly realistic and interactive baby dinosaurs as part of the tour!
-A FREE SOUVENIR PHOTO (one per vehicle) that will be available online!
First Annual Dredgefest!
We've all had to sacrifice to get through these hard times…the stage has slept long enough!!
Bridge 13 has put together a solid line up of SA original talent that could very well be the cure for your blues! Saving Jackie, My Madness, and We Inertia teaming up to bring you some well deserved entertainment.
Please join us for the First Annual Dredgefest on Saturday Jun 13 from 7 p.m. – 2 a.m. at Fitzgerald's Bar & Live Music Venue (437 McCarty Suite 101 San Antonio).
For more information, please visit https://www.facebook.com/events/532970604037452/.
Movie in the Park at Tower of the Americas
Grab a blanket and enjoy a family-friendly motion picture under the stars every month, at Tower of the Americas (739 E Cesar Chavez San Antonio).
Cost: Free
Times: Movies start at sunset*
Movie Schedule**
6/13 – The Lion King
7/11 – Toy Story 4
8/08 – Avengers End Game
9/12 – Star Wars – The Rise of Skywalker
10/10 – Angry Birds 2
11/14 – Elf
12/12 – How the Grinch Stole Christmas
*Parking rates change throughout the week. To learn more please visit: http://bit.ly/2KgozZa
*Hours vary throughout the year. Call for more information.
**Movies are subject to change or cancel without prior notice. Please call 210.223.3101 for more information.
Los #3 Dinners at Sam's Burger Joint Music Hall
Join Sam's Burger Joint (330 East Grayson St. San Antonio) for an evening with Los #3 Dinners. Limited Tickets, Fully Seated Show with social distancing.
Get your tickets today for Los #3 Dinners!
Doors at 7:00pm Show at 8:00pm
Limited Tickets, Limited Outdoor Seating (Weather Dependent) Social Distancing, Safety Procedures, Cocktail Service, Fully Seated Show.
NO REFUNDS all sales final.
Ages 18 and up – All Minors Will Be Charged an Additional $5 At the Door. 17 & Under Admitted with Parent or Guardian Only.
For more information, visit https://www.facebook.com/events/946511845820333/.
Los #3 Dinners
The True or Almost True Story of Los #3 Dinners
Once upon a time, two young pregnant mothers to be lived in the same apartment building. This was the first time Lenny and Bart met, then again at Longfellow Jr. Hi. Years later, Joe, Rudy and George Horner met at Woodlawn Elementary School. Sometime in 1965 Lenny met Joe surfing at Port A. 1966 saw the collision of chaos at Jefferson High School with Lenny, Joe, Bart, Frank, George and Rudy. The common threads of Beatles and Stones and Rock N Roll, riding the bus downtown to Joskes and The Texas Theater, Jefferson Village and Silvey Music Store, driving around and countless other things forged an unbreakable bond. High School parties at various places brought forth guitars, drums and mayhem. In the seventies with some in and out of college and in and out of the army there became a need of creating music.
In the seventies, radio became a format controlled by marketers and not DJs who wanted to promote new sounds. Rock, and music in general, was being segmented into what sold to the masses and thought by the corporate world as a sure thing and that was it. For people, like our group of friends, the music on the radio, with few exceptions, did not speak to them. If we wanted to experience the type of music we wanted to listen to, we would have to make it ourselves. The seed was turning into the weed.
Lenny, with Frank and Rudy, would make cassette tapes of funny songs using different styles of music; rock, blues and reggae. These songs would later developed into the classic songs of Los #2 Dinners (later Los #3 Dinners); which were copied a shared within the group of friends. George Horner, Don Evans and Norman Avila, all young artist, had a gallery called the San Antonio Museum Of Modern Art. The artist invited the guitars players to play for an opening. It was decided the musicians and artist would put a band together. With Don on drums and vocals, Norman on percussions and vocals, George on vocals and harmonica, Lenny Friedland on guitar and vocals, Frank Karpienski on lead guitar, Glen Soladad on bass and Rudy Sanchez on guitar and vocals the band performed garage songs as well as original tunes that featured lyrics about living in San Antonio by Lenny. Someone saw at the opening and asked the group to play a house party. At the house party, someone saw the band and then we were booked at The Friendly Spot. At The Friendly Spot, Bart Nichols replaced Glen Soladad on bass and Los #2 Dinners became an overnight sensation. At that time it was decided that the band would play as long as people would come to see them.
In the early nineties with Jake Perales on drums and Joe Shortt on guitar, harmonica and vocals joined Lenny, Frank and Bart on a side project called The Blue Pralines. The new band was intended to be a blues band. Don and Norman continued to work at their art (George had left earlier to purse a career in the art world). Rudy was performing with bands is Austin. As the Pralines became more popular, the demand for 'Dinners' songs increased and the blues project was abandoned. The Pralines became Los #3 Dinners and shortly Rudy followed in. As time went by, the music kept morphing and becoming stronger as everyone kept getting better as musicians.
Besides writing and performing songs about life in San Antonio, another goal was to play at venues and locations that have special meaning to the members of the band. Los #3 Dinners was the first rock band to play at The Alamodome. The band performed for a small teen fest a week before the Paul McCartney concert. While cheesy, the band chalked it down as a distinction to remember. Other places include the gazebo in Alamo plaza, Rosedale Park, Sunken Gardens, the Zoo, Majestic and Empire theaters, Main Plaza, Hemisphere Plaza, almost every fiesta event including the River Parade, as well as many, many clubs, bars, art openings and happening places. The members of Los #3 Dinners love their town, the places in it and the people that make it special.
Los #3 Dinners started out and a group of childhood friends who have a special bond to each other and just wanted to make the kind of music that wasn't there. They became citizen rockers to fill a void. In doing so they discovered a simple rule, "Don't let life live you…live life". So, there you have it: Los #3 Dinners.
A Date Night In Featuring Jazz Crooner Ken Slavin
Grab your sweetheart and join us for a virtual concert featuring the swinging, soulful Ken Slavin!  Make the night even more memorable by purchasing a "Date Night Care Package" complete with drinks for two and other surprises to be delivered to your door!
Tickets – $20
Tickets + Date Night Care Package – $50
Purchase your tickets online: https://pages.lls.org/mwoy/items/?fundraiserPageURL=https://pages.lls.org/mwoy/stx/sat20/lindamay
Henry Brun & The International Trio
Since we are unable to gather in person, the King William Cultural Arts District will continue to share our passion of promoting and supporting local musicians online.
Let's gather online Sunday, June 14 at 5:30 p.m., on the King William Cultural Arts District Facebook page for the second King William Concert Series of 2020.
This month will feature the healing rhythms and invigorating beats of Henry Brun & the International Trio!
Conga dynamo Henry Brun, nicknamed "Mr. Ritmo" by his fans, lives by the authenticity, dynamics and "cadencia" of the music he plays. International recording and award-winning percussionist Henry Brun is a talented, professional musician and band leader who is excited to help our mission.
The concert will feature a grand historic home as the backdrop for the virtual performance.
How To Watch Our Facebook Live Feed King William Concert Series:
LIKE the King William Cultural Arts District Facebook page.
Click FOLLOW on the King William Cultural Arts District Facebook page so you will be alerted when the virtual concert starts.
Once the concert has started, you can create a watch party to ensure your favorite neighbors and amigos are watching with you! Follow this link to start your own watch party:
Meet Me at The Depot
Ready for some MUSIC, FOOD AND SHOPPING??  IT'S DEPOT TIME!!
June's Meet Me At The Depot (1304 S Laredo Street San Antonio) will happen this Sunday Jun 14 from 3 – 7 p.m.
MUSIC:
 The Killing Floor
https://www.facebook.com/thekillingfloorband/
– "Texas Blues Rock, Latin, Jam, Experimental, Attitude & Funk"
The Unknown Soldiers
https://www.facebook.com/SAUnknownSoldiers/
– "The Unknown Soldiers are an eccentric local band with a plethora of Indie Rock original music. Coming off their southmore album (fire@ will) the Unknown Soldiers are releasing their third album Bohemian Army) in July."
Rivercity Slim & The Rhythm Kings
https://www.facebook.com/River-City-Slim-The-Rhythm-Kings-156757794376760/
– If you haven't heard of this legendary band you aren't from San Antonio! The band has shared the stage with various artists and legends, such as John Lee Hooker, Bo Diddley, Omar & The Howlers, Sam & Dave, Augie Meyers, Doug Sahm, Sue Foley, The Arc Angels, Lazy Lester, and The Romantics playing Blues/Blues Rock.
Wrapping up the night:
Jason Kane & The Jive
https://www.facebook.com/jasonkaneandthejive/
– High voltage boogie rock n' roll with Blues, Funk and Soul influences! This band has shared the stage with Ace Frehley, Dokken, Y & T, Pat Travers Band, Moxy, The Winery Dogs,L.A. Guns, Starz, Blood on the Dance Floor, Jackyl, Uli Jon Roth, Saving, Abel, Sebastian Bach, Enuff Z'Nuff, Graham Bonnet Band, Axe, Kiss The Sky, McClinton, The Heroine, Uriah Heep, Legs Diamond, Killer Dwarfs and Heyoka.
VENDORS:
Humble Vision Designs – HumbleVisionDesign.com
Nana's Nails – https://www.colorstreet.com/NanaAnnette
Paparrazi – https://kingnqueens5dollarbling.com/
Boutique On Basse – https://www.facebook.com/boutiqueonbasse/
Brianna's Boutique – Tuppeware/CBD/other https://www.facebook.com/profile.php?id=100039397133256
FOOD VENDORS:
 BRISKET BOYS
"Brisket Boys offers you hometown BBQ.
Slowly smoked BBQ so delicious you will leave wanting more!"
https://www.facebook.com/brisketboys2017/
GEMS OF HAWAII
"Filipino/Hawaiian style food in the Heart of Texas! Island style comfort food, and a Lumpia lovers dream!"
https://www.facebook.com/pg/gemsofhawaii
Stay tuned to OnSanAntonio.com, your site for fun, free, local entertainment for upcoming events in our weekly column, FUN10, every Sunday!
#Fun10SanAntonio
Tess Abney is a freelance writer who was born and raised in the Quad Cities. She spends most of her time attempting to successfully raise three boys. In her free time, writing is her passion. Whether it is sharing local events and businesses with readers or sharing her thoughts on life, she finds comfort in the way words can bring people together.