10 Fun Things To Do Week of May 10th: Art, Music, Zoos and MORE!
OnSanAntonio.com proudly presents a brand-new new feature, FUN10, a list of the top 10 things to do in San Antonio this week, and every week! Every Sunday, we'll drop a new FUN10, to give you a head start on your week and a heads up on what's going on over the coming seven days. Check out FUN10 every Sunday for the details on ten awesome events happening around town. It's a cool read, and a great way to get started planning your entertainment for the week.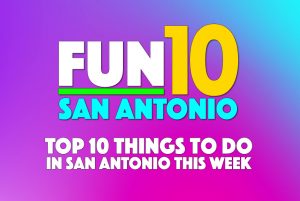 Due to the cancellation of so many regularly scheduled events in San Antonio – with more coming in every hour – we're focusing this week's edition of Fun10SanAntonio on fun entertainment you can enjoy in the safety of your own home or while practicing safe 'social distancing'.
FUN10 — ten ways for you to have fun in San Antonio, this week and every week, running every Sunday, only on your site for fun, free, local entertainment, OnSanAntonio.com!
So what's on the FUN10 for this week? Read on …
Drive Thru the San Antonio Zoo
Load up the car with your small herd and head out to the zoo for a once-in-a-lifetime opportunity! This weekend San Antonio Zoo will launch Drive Thru Zoo, a one-of-a-kind experience where families can get the chance to see the zoo while we are closed from the comfort, safety and security of their own vehicle. The experience will include a guided educational audio tour and food and beverage curbside options featuring some of your favorite zoo treats along the route. In fact, guests have not been able to tour the zoo on four wheels since there were carts led by donkeys then later trams.
"This is a very unique and safe way for families to see the zoo while we are closed from the comfort of their own car." said Tim Morrow, President & CEO San Antonio Zoo. "Proceeds from this event will help fund the care of our animals through this closure. This new, creative way to see the zoo will be a gradual step towards our plan to reopen to foot traffic when we are given the "green light" and the time is right."
Drive Thru Zoo will be offered May 1 – 3 from 10:00 a.m. to 5:00 p.m. Guests are encouraged to purchase tickets online before their arrival. Admission per vehicle is $40 for non-pass holders and $32 for Annual Pass Holders and Members.
Drive Thru Zoo will be offered May 4 – 17 from 10:00 a.m. to 5:00 p.m. Guests are encouraged to purchase tickets online before their arrival. Admission per vehicle is $60 for non-pass holders and $32 for Annual Pass Holders and Members.
Annual Pass Holders and Members will need to purchase their discounted admission upon arrival at the zoo. The zoo will offer curb side ticketing for Annual Pass Holders and Members so that admission can be purchased safely from their vehicle. While driving a sloth's pace and hearing about the zoo's history and animals, guests will get the opportunity to purchase and enjoy some of their favorite zoo snacks and beverages along the route that will be brought to their vehicle.
*Vehicle size will be limited to 224″ L x 81″ W x 74″ H (approximate size of a Suburban)
Since closing on March 14, San Antonio Zoo has lost virtually all ability to generate income. Still, the team has been working to find creative ways to generate revenue in any way that can help the zoo survive this closure. From baskets filled with zoo gifts to Adopt-An-Animal kits, and even a new monthly membership for as low as $3.00 per month, the team has a no-fail attitude. Unlike most zoos in the country, San Antonio Zoo is 100% dependent on ticket sales, guest visitation, donations, and grants creating the need for the zoo to start an emergency fund donation campaign and unique opportunities like Drive Thru Zoo. The zoo has a long road ahead to recovery and is asking that people donate to its emergency fund. Donations can be made at www.sazoo.org/emergency-fund.
River Walk Images, When San Antonio Stood Still
The San Antonio River Walk is now presenting River Walk Images, When San Antonio Stood Still online.
The San Antonio River Walk Association is pleased to offer several free Zoom conference call images. Download any of them from this page through the end of May 2020.
A second collection of over 40 images are available for sale. These art-quality images are posted on styrene and are ready for framing. See the collection online at:
https://www.roesweb.com/configs/DigitalProLabRW/products/river-walk-project/oAw3tRI
All images were captured in April of 2020 during COVID-19 isolation by San Antonio photographer Erika Pinkley. She and Digital ProLab are donating a portion of all sales to Friends of the River Walk, a nonprofit branch of the San Antonio River Walk Association. FOTRW funds a UTSA scholarship for historical architecture and provides funding to offset free events held on the River Walk.
Max and Josh Baca's Lunchbox Special
Max Baca and Josh Baca present their Lunchbox Special, a live stream from their studio LIVE, on Wednesdays around 12 p.m.
If you care to leave a tip or donation here are the Venmo and PayPal links:
https://venmo.com/LosTexmaniacs (Preferred)
https://www.paypal.me/LosTexmaniacs (Please donate as friend)
MERCH orders contact via FB messenger: https://www.facebook.com/gabriel.rodriguez.184881
Pricing for merch is as follows:
$20.00 – Logos T-Shirts available Mens S-4XL
$50.00 – Dickie Shirts: Large – 4XL
$10.00 – Logo Bandanas (Perfect for Covid19 face masks)
$20.00 – CDs Americano Groove and Unreleased Para La Raza
$25.00 – Flat Brim Fitted Hats and Flex Fit
Plus Shipping $5 and up depending on order size, weight and destination
Pay Venmo (preferred) or Paypal:
https://venmo.com/LosTexmaniacs
https://www.paypal.me/LosTexmaniacs
For Smithsonian Recordings please follow this link:
https://folkways.si.edu/artists/los-texmaniacs
Booking now for dates in the fall for venue, festival, concert or private concerts, Birthday, quinceanera, anniversary parties.
Currently they can serenade at a 6 foot socially distant Las Mananitas in Central Texas!
We can also set up a private Livestream or Zoom parties!
Booking Contact:
KT Gardner – ktrootstock@gmail.com – (512) 207-0825
BoldBrush Art Lockdown Exhibit
Join BoldBrush Art for series of weekly Facebook Live Online Art Exhibits with some of the most amazing living visual arts in the BoldBrush community.
It's all part of the BoldBrush Art Lockdown Exhibit, their way of helping connect collectors to visual artists and artwork that they love during the coronavirus pandemic.
All proceeds from the sale of artwork go directly to the artists. You'll also be directly connected to the artists that you purchase artwork from through the exhibit. It's BoldBrush's hope that you'll make friendships that will last a lifetime.
Claude Morgan & Robar Virtual Show
Come one, come all, become an EAR-Regular and lend us your ears and cheers. We will do our very best to put a smile on your face and joy in your heart.
"BURO" BUtch & RObar will be live-streaming from Sanchos deck. Come support one of our regulars from the comfort of your home!
Robert Robar Adams-Bass
Claude Butch Morgan-Guitar
Ed Morales Virtual Concert at Sanchos
Livestreamed from Sanchos: Ed Morales of "Ed Morales & The River", performing music from his critically-acclaimed albums along with a selection of classics from 70's and 80's
Bud Light River Walk Concert Series
Grab your wine and get yourself an afternoon snack, because every Friday at noon The San Antonio River Walk will release a new video for you to enjoy from your living room! They will be featuring local San Antonio music artists & local chefs to help us fight our boredom and to help out our hospitality friends!
Please donate below to "Friends of the River Walk" and help achieve the goal of $20,000. 100% of the proceeds will be given to Culinaria's "HospitALLity House Emergency Relief Fund" for Hospitality workers in San Antonio.
Your donation makes a difference! Hotels, restaurants, and attractions make our River Walk the #1 tourist attraction in Texas, bringing over 3.5 billion in economic impact to our city. We appreciate your giving. Silver Eagle Beverages and Bud Light will match up to $10,000 in giving.
So please enjoy, have fun, and if you can, please consider donating.
https://sanantonioriverwalk.givingfuel.com/riverwalkreliefconcert
Beyond the Production with OPERA San Antonio
OPERA San Antonio has created a new series called "Beyond the Production".
Each Friday at 12p CDT OPERA San Antonio goes live on Facebook for interviews with singers, musicians, designers, conductors, and technicians – stepping off the stage and into the community to share stories with you.
#Graduation2020: Facebook and Instagram Celebrate the Class of 2020
When schools were shut down recently, many students found themselves saying goodbye to the idea of in-person gatherings, extracurricular activities and what they knew as a 'normal' end to their school year, all together. But some of those students were saying goodbye to graduation ceremonies, diploma handoffs and parties they've waited their entire lives for. For the past four years, these young adults have worked towards one special day. Graduation.
The Class of 2020 will go down in history as one of the most adaptable graduating classes of our time. They are experiencing one of life's most exciting accomplishments. And it is most definitely a time for pause, reflection and celebration.
Facebook and Instagram are doing their part to help celebrate these graduating seniors, with #Graduation2020: Facebook and Instagram Celebrate the Class of 2020. Facebook Executive Marne Levine shared the following information regarding, #Graduation2020:
"On May 15 at 11AM PT/2PM ET, we'll broadcast #Graduation2020: Facebook and Instagram Celebrate the Class of 2020. Your commencement address will be given by Oprah Winfrey. Awkwafina, Jennifer Garner, Lil Nas X, Simone Biles, and more, will share words of wisdom for the class of 2020. Miley Cyrus will do a special performance of her hit song, "The Climb."
The ceremony will acknowledge high schools and colleges in the US by name, state by state, including photos and videos of the class of 2020 and messages from deans and principals across the country. The video will be shared on Facebook Watch and available at facebook.com/facebookapp. Highlights and more will be posted to the @instagram account on Instagram, and on contributors' social media accounts.
Graduates can also host their own virtual graduation ceremony and party via Facebook, with special features including a virtual graduation hub, custom filters, family and friends celebrations enabled by Messenger Rooms, and more.
On Monday, May 11, @instagram will kick off daily programming that spotlights iconic senior experiences — from "most likely" votes to portrait showcases to senior skip day. Instagram will also roll out new creative tools and features including a graduation countdown sticker, celebratory sticker pack, new AR effects, and a custom hashtag page for #Graduation2020.
And what's graduation without the music? Facebook and Instagram Stories will also launch a graduation theme for Music Stickers — a list of grad-related songs making it easy to find the perfect soundtrack for the graduation moments people share to their stories.
This year's graduation will be different than other years, and no doubt memorable because of it. We're proud of our graduates for all they have achieved — congratulations to the Class of 2020!"
YOSApalooza Virtual Concert
YOSApalooza is going VIRTUAL!
Join YOSApalooza for a Facebook Premiere on Sunday May 17 at 6 p.m. This event will feature performances from this past season by all nine YOSA Orchestras and a never-before-seen YOSApalooza finale recording.
Visit https://www.facebook.com/YOSA49 for more information.
Stay tuned to OnSanAntonio.com, your site for fun, free, local entertainment for upcoming events in our weekly column, FUN10, every Sunday!
#Fun10SanAntonio
Tess Abney is a freelance writer who was born and raised in the Quad Cities. She spends most of her time attempting to successfully raise three boys. In her free time, writing is her passion. Whether it is sharing local events and businesses with readers or sharing her thoughts on life, she finds comfort in the way words can bring people together.