10 Fun Things To Do Week of May 17th: Date Night, Kayak Rentals, Music and MORE!
OnSanAntonio.com proudly presents a brand-new new feature, FUN10, a list of the top 10 things to do in San Antonio this week, and every week! Every Sunday, we'll drop a new FUN10, to give you a head start on your week and a heads up on what's going on over the coming seven days. Check out FUN10 every Sunday for the details on ten awesome events happening around town. It's a cool read, and a great way to get started planning your entertainment for the week.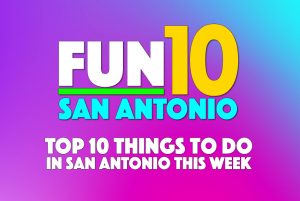 Due to the cancellation of so many regularly scheduled events in San Antonio – with more coming in every hour – we're focusing this week's edition of Fun10SanAntonio on fun entertainment you can enjoy in the safety of your own home or while practicing safe 'social distancing'.
FUN10 — ten ways for you to have fun in San Antonio, this week and every week, running every Sunday, only on your site for fun, free, local entertainment, OnSanAntonio.com!
So what's on the FUN10 for this week? Read on …
Monday Night Virtual Musician Open Mic Jam
Join Fitzgerald's Bar & Live Music Venue for a special "Virtual Edition" of their Monday Night Open Mic Jam – from your living room to theirs!!
They invite everyone to tune in – musicians or not!!! We CAN have fun together, virtually.
See the event posts to sign up for your slot…
The same rules apply that we normally have when we are at Fitzgerald's… with one exception – you can ask for tips! Please post PayPal and/or Venmo links during signup if you want to ask for tips.
When your turn is up, you should be ready to jam! More than one person will be able to link up at a time, so we can try for multiple folks (bands) and certainly duos.
Each act/ group gets to do two-three songs or 15 minutes (not to exceed 15 minutes please).
Our lovely sound engineer Savannah will be running the show…
Savannah will post a link to the "meeting" on Zoom.
You can sign up to Zoom for FREE and there will be no charge to join our open mic.
Archaeological Discoveries in San Antonio
Celebrate Preservation Month with an exciting online presentation by OHP City Archaeologists Shawn Marceaux and Matthew Elverson!
Join the City of San Antonio Office of Historic Preservation as they explore recent significant archaeological discoveries from the San Antonio area.
Stay tuned for livestream details! The event is free and open to the public.
Quarantine Date Night: A History of Alcohol at the Missions
It's Quarantine Date Night!
While you wait for your takeout to arrive, join San Antonio Missions National Historical Park for some dinner entertainment. Learn about the history of alcohol at the missions in San Antonio at this live virtual talk.
Tune in on their Facebook page (San Antonio Missions National Historical Park) on Friday, May 22 at 6 pm.
Virtual Witte 5k and Dino Dash
Experience the Virtual Witte 5k and Dino Dash from Saturday May 23 through Monday May 25.
Witte 5K and Dino Dash benefits the Witte's Emergency Fund established to support operations and ensure the museum's future, given the COVID-19 closure.
Registration fees include a coveted event t-shirt. Registrants will also receive an official race bib & you are encouraged to wear your favorite dinosaur or Witte attire, and tag the Witte in your social media photos at #WitteDinoDash, or on the Witte's Facebook page.
Lace up your shoes and join us for the 9th annual Witte Museum 5K and Dino Dash Presented by University Health System! During these uncertain times, we invite you to participate in the Witte 5K virtually from your own neighborhood or favorite trail! When participating, please keep six feet of distance from others and respect local safety guidelines. We urge you not to run in groups or with others and appreciate participation while meeting the current guidelines of local and state authorities. When participating, please keep six feet of distance from others and respect local safety guidelines. We urge you not to run in groups or with others and appreciate participation while meeting the current guidelines of local and state authorities.
Not only are we going virtual but we are expanding the 5K to encompass the entire weekend! The virtual walk/run/bike will be held over the three-day Memorial Day weekend to encourage proper social distancing and adherence to state and local guidelines. While it has been tradition for each participant to walk or run 3.2 miles, this year Witte friends everywhere are encouraged to choose a distance with which they are comfortable.
The Witte Museum is all about health and wellness and we hope you will join us in getting out of the house with your family, leashed pets, or on your own to enjoy the outdoors with the Witte's 5K and Dino Dash! Since we can't walk/run/bike together, we encourage you to enjoy the health benefits of exercise and the outdoors all while practicing social distancing. What better way to escape cabin fever!
Secondly, you can help the Witte even more through the new "Ambassador Fundraising" where you & your friends by raising additional funds. It's easy and it's fun! Your support of the Witte 5K and Dino Dash provides vital funds for our Emergency Fund that your museum so desperately needs!
How It Works:
Register to Race Virtually
Register on this page & then, run, walk, bike, rollerblade anywhere on your street, trail, neighborhood or favorite route. It can even be done on a treadmill. A virtual race is a race that can be done from any location you choose. You get to exercise at your own pace. You will be rewarded by supporting the Witte, improving your health, and receiving your much deserved memorabilia you will cherish for a lifetime! (And if you sleep in and don't complete the race, we won't tell!)
Earn More Points for Prizes
More Details to Come on the Points System!
What do you get with this Virtual Race?
– Official Dino Dash Bib
– Official 9th Annual Witte 5K and Dino Dash T-Shirt
– Your pictures posted on the Witte Museum FB or Instagram
– Opportunity to earn many points through our new "Dino Point System" & earn lots of cool prizes!
Packet Pick-Up:
While we are all still safely social distancing and taking all of the necessary precautions, we will be offering a safe "Curbside Packet Pick-Up" that will include your swag bag items of event t-shirt, and race bib. You may pick up your items from the Witte Security off of Tuleta & Avenue B on the following dates/times:
Thursday, May 21, 2020: 10:00am – 4:00pm
Friday, May 22, 2020: 10:00am – 4:00pm
Saturday, May 23, 2020: 10:00am – 2:00pm
***Please note that if you register for the Dino Dash on Saturday/Sunday/Monday of the virtual 5K, an alternate race bib will be emailed to you and your swag bag may be picked up at the Witte Security only Tuesday, May 26 – Friday, May 29, 2020 from 10:00am – 5:00pm.
What is a Virtual Run and 10 Reasons Why You Should Run in a Virtual Run?
https://www.thebestraces.com/virtual-race-what-is-it-and-10-reasons-why-you-should-run-in-a-virtual-race-in-2019/
For questions or inquiries, please contact Lauren Gordon, Fundraising Event Coordinator, at LaurenGordon@WitteMuseum.org, or (210) 639 – 1773.
Thank you for your wonderful support of the Witte Museum! Please note there are no refunds.
2YD Virtual Sports Expo
2YD's traditional Sports show was canceled due to the pandemic. So, they are now the 2YD VIRTUAL Sports Expo!
The event will have new and vintage cards, sports figures, posters, magazines and more…
This virtual event allows you to participate through Facebook. So you can enjoy the event safely without leaving home.
As always, we want to encourage you to participate. So, throughout the event, you will have opportunities to win free prizes.
The Forsyth Duo Livestream Takeover
Join The Forsyth Duo virtually, as they head to Sam's Burger Joint for a Livestream Takover!
This Sam's Burger Joint Livestream Takeover will happen on Saturday May 23 from 6 – 7:30 p.m.
For more information on The Forsyth Duo, visit https://guyforsyth.com/.
Kayak Rental Re-Opening at Mission Adventure Tours
Mission Adventure Tours are Re-Opening for kayak rentals in May!
Come out and enjoy kayaking on the beautiful San Antonio River. They are limiting the number of reservations each day so that there is plenty of room on the river for all to enjoy! Advanced online reservations are required.
For more information, including extra safety standards, visit https://www.missionadventuretours.com/kayaking.html.
Reopening of Bandera Market
Bandera Market (11625 Bandera Rd. San Antonio) will be reopening their Outdoor Market this Saturday May 23 from 10 a.m. – 5 p.m.
The DHS just released a study that found sunlight and high humidity kills the virus. It's Preliminary-but very promising. What a great time to enjoy the sunlight and shop outdoors to help local small businesses recover.
To help keep our vendors and customers safe, we have implemented the following:
1. We will have two sanitizing stations available for customers
2. All vendors will be wearing masks covering their nose and mouth
3. Each business will have sanitizer for customer use at each tent
4. Vendors will be set up feet apart.
Stuck at Home Online Collectibles and Toy Show
Join Big Bang Bazaar online and help out Comicon toy vendors!
All Spring Shows are unfortunately cancelled for Big Bang Bazaar, but they're bringing the best local vendors and buyers together, virtual style!
Visit https://www.facebook.com/events/509956259684580/ for more information.
Memorial Day Artisan Show
Experience the beauty of the San Antonio River Walk at the Memorial Day Artisan Show by shopping over 40 handmade artisan booths including pottery, textiles, jewelry, woodwork, paintings, beadwork, and more. Stay closer to the action with Hilton by booking any of their 50+ branded hotels in the San Antonio area at travel.hilton.com/ArtShow.
Friday, Saturday & Sunday @ 11 AM – 11 PM
Monday @ 11 AM – 8 PM
Located at the River Walk Extension (close to San Antonio Chamber of Commerce Building & the Shops at Rivercenter)
Free to attend.
Visit https://www.facebook.com/events/1127844934275483/ for more information.
Stay tuned to OnSanAntonio.com, your site for fun, free, local entertainment for upcoming events in our weekly column, FUN10, every Sunday!
#Fun10SanAntonio
Tess Abney is a freelance writer who was born and raised in the Quad Cities. She spends most of her time attempting to successfully raise three boys. In her free time, writing is her passion. Whether it is sharing local events and businesses with readers or sharing her thoughts on life, she finds comfort in the way words can bring people together.