10 Fun Things To Do Week of May 31st: Bingo, Moths, Music and MORE!
OnSanAntonio.com proudly presents our newest feature, FUN10, a list of the top 10 things to do in San Antonio this week, and every week! Every Sunday, we'll drop a new FUN10, to give you a head start on your week and a heads up on what's going on over the coming seven days. Check out FUN10 every Sunday for the details on ten awesome events happening around town. It's a cool read, and a great way to get started planning your entertainment for the week.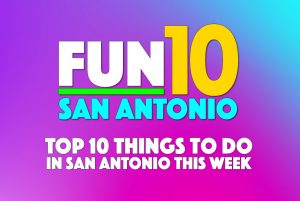 Due to the cancellation of so many regularly scheduled events in San Antonio – with more coming in every hour – we're focusing this week's edition of Fun10SanAntonio on fun entertainment you can enjoy in the safety of your own home or while practicing safe 'social distancing' as the state begins the process of opening back up.
FUN10 — ten ways for you to have fun in San Antonio, this week and every week, running every Sunday, only on your site for fun, free, local entertainment, OnSanAntonio.com!
So what's on the FUN10 for this week? Read on …
Bingo Night at Rebecca Creak Distillery
Join Rebecca Creek Distillery for Bingo Night this Wednesday Jun 3!
Just Bingo, Food, & Cocktails! What more could you want?
Open from 5pm – 10pm for Cocktails and food (NO TOURS).
Bingo is from 6 pm – 9pm.
6 Games with prizes.
Monthly raffle of an empty 53-gallon Whiskey Barrel.
Tommy Zmokes BBQ on site with delicious BBQ and daily Specials.
Come join us for a great Night!
For more information, please visit https://www.facebook.com/events/255366895707695/.
My Big Run
This year's Global Running Day celebration will look a little different. Races have been cancelled, plans derailed, and we are all adjusting to new normals. Yes, race day will look different. But our mission remains the same: inspire the runner in everyone. With that in mind, and in partnership with Brooks Running, we've made a few changes to The Big Run that we have known and loved for the past three years.
My Big Run is personal. We understand each of you have unique goals, and we want to celebrate with you when you achieve them.
My Big Run is an inclusive celebration of getting out there and crossing your own finish line, despite the challenges we are all currently facing. We'll provide the support, encouragement, and know-how to keep you motivated along the way. You're about to gain a ton of new running buddies.
How are we going to make this happen?
On June 3, we're going virtual! Additionally, you have the option to choose from five race distances this year. Distances include: 1 mile, 5K, 10K, half marathon, full marathon. After you submit your results, we will upload to our national results page. We will provide directions on how to submit results.
Registration is $10. What does that get you?
A $15 voucher: Redeemable at your locally owned and operated Fleet Feet, or on fleetfeet.com if you do not have a local Fleet Feet. *Exclusions may apply. Check with your local store before redeeming for details.
Virtual race-day kit: Includes your virtual medal image to post on social media, plus print-at-home bib and photo props. We want to see your accomplishment when you finish your run so we can celebrate with you!
Training and tips: Weekly invitations to our training content and tips, and access to our Fleet Feet coaches for any questions you may have. We know some of you are new to running and walking, and we're here to help.
The chance to win some very cool prizes. More details coming soon!
BONUS: For an additional $15, you can purchase a limited edition My Big Run branded face cover!
Please note these face covers will ship to you after Global Running Day.
If you have already registered for The Big Run, check your inbox for next steps and transfer options. We appreciate your patience and hope you can still join our celebration on June 3.
Stay inspired:
Not sure where to start? Find your local store here, and ask about our Virtual Fitting options, so we can get you in the right gear.
Download the Fleet Feet Rewards App for updated training and product information.
Search #thebigrun on Facebook, Instagram or Twitter to see how our epic coast-to-coast running community celebrated The Big Run last year, and search #TogetherWeMove for some encouragement and good vides from our running community, during this challenging time.
Thank you to our partners at Brooks Running. Brooks' purpose is to inspire everyone to run their path to a better self by creating exceptional, tools and experiences. Founded 1914, Brooks is a subsidiary of Berkshire Hathaway Inc. and is headquartered in Seattle.
For more information, please visit https://www.facebook.com/events/216666946190532/.
Distance Learning – Texas Moths in the Spotlight
In North America there are 15 times the number of moth species as butterfly species, and their roles in terrestrial ecosystems are far more significant. Master Naturalist, Delmar Cain will talk about Texas moths' life cycles, food, beauty, challenges and the roles they play in the larger food web. He will also talk about citizen science and how to communicate findings to entomological experts.
Participants will be asked to take a brief survey, which allows the Botanical Garden to get credit from San Antonio Water System, process your refund, and get WaterSaver Rewards points if any are available for the class. A weblink and instructions will be sent to you 24 hours prior to the start of class. A computer and internet connection required.
Fee: $10 refundable deposit upon completion of the post-workshop survey
Instructor: Delmar Cain, Master Naturalist
For more information, please visit https://www.facebook.com/events/2538868833030856/.
Dirty Bango Bingo
Dirty "Bango" Bingo ~ Zoom Edition
Benefiting DaisyCares
Thursday, June 4 @ 7p
This Isn't Your Grandma's Bingo! Grab your friends online, and get ready for a naughty good time. We'll play some FUN rounds of Dirty "BANGO" bingo, You'll have a chance to win some naughty prizes from Love Shack Boutique!
Game starts promptly online at 7pm
(Must buy your ticket will be 6/4 at 6pm)
You MUST buy your ticket online here – https://www.eventbrite.com/e/dirty-bango-bingo-game-night-in-benefiting-daisycares-tickets-106610673394
Your ticket, is a donation in any dollar amount. Love Shack Boutique will be donating all money to DaisyCares, which is an essential service that is committed to providing pet food relief through the San Antonio Food Bank.
You will receive the Zoom link and game card via the email you use on Eventbrite
100% of proceeds will benefit DaisyCares
Everyone Is Welcome: Our in-store & online events are well attended by an incredibly diverse audience. When we say that everyone is welcome, we mean it! People of all genders, orientations, ages (18 and older) and abilities are encouraged to come.
DaisyCares is a non-profit corporation created to provide pet food, medical care to needy pets, and reduce animal abuse through public education and awareness. The DaisyCares Pet Food Program is partnered with the Food Bank and Animal Care Services Pet Pantry to provide pet food to families who might otherwise be faced with the decision of abandoning or surrendering their family pet.
New Orleans Night
NEW ORLEANS NIGHT IS BACK! And The Dirty River Dixie Band is bringing you music of the 20′-40's once again!
New Orleans Night with The Dirty River Dixie Band is happening this Thursday Jun 4 at 9:30 p.m. at LUNA (6740 San Pedro Avenue San Antonio).
Cover is $5 and goes straight to the musicians.
Ladies & gentlemen, live music will once again fill the club! We have spent our time off giving the club a bit of a facelift. We knew the obstacles that lay ahead & we took our time in drawing up a seating layout that would give everyone comfortable distance to enjoy a safe & entertaining evening out.
Per Governor Abbott's 25% occupancy mandate, we will be limiting entry to exactly 42 people. Everyone will be guaranteed their own table with seating options for up to 4 guests. We do not take reservations, so early arrival between 8-8:30pm is strongly recommended. Cover charge will no longer be taken upon entry, instead it will be added to your tab & credit card payment is very much appreciated.
Our employees will be required to wear masks at all times & we ask that customers keep theirs on until seated at their table. Hand sanitizer, wipes, disinfectants & cleaners are readily available & will be used throughout the night.
All cocktails will be served with individually wrapped straws & bagged garnishes. Bartenders will have no direct contact with any ingredients to your drink. Our glassware has & always will be vigorously washed, sanitized & rinsed in hot water. Plastic cups will be available upon request.
We are 100% confident that LUNA is ready for reopening & that our protocols are appropriate & thorough. Our reputation & safety/comfort of our customers is of the highest priority & we would never jeopardize that. We love & appreciate every single one of our amazingly loyal, generous & supportive patrons. We've missed doing what we do and seeing all of you.
WE ARE READY!
For more information, please visit https://www.facebook.com/events/253296339116654/.
Quarantine Date Night: History of Tex Mex Food
It's Quarantine Date Night!
What makes a perfect at-home date night? Order your favorite Tex Mex food for delivery and tune in on Facebook Live to join a Park Ranger for dinner.
Learn about the history of Tex Mex food, beginning at the missions in San Antonio.
Tune in on our Facebook page (San Antonio Missions National Historical Park) on Friday, June 5 at 6 pm.
The Doc Watkins Show
Doc Watkins hosts another show LIVE, FROM JAZZ, TX on Friday, June 5th at 8:00!
Special musical guest for the night will be the great Kevin Eubanks "Official Page"! We'll also have San Antonio journalist Roma Villavicencio – KENS 5 in the house!!!
SEND SPECIAL REQUESTS TO: HiDoc@jazztx.com
Available on Facebook Live and YouTube.
Ruben V at Sam's Burger Joint Music Hall
Join Sam's Burger Joint Music Hall (330 E Grayson St. San Antonio) for an evening with Ruben V. Don't miss out on this Limited Tickets and fully Seated Show with social distancing.
Get your tickets today for Ruben V !
Doors at 7:00pm Show at 8:00pm
Limited Tickets, Limited Outdoor Seating (Weather Dependent) Social Distancing, Safety Procedures, Cocktail Service, Fully Seated Show.
NO REFUNDS all sales final.
Ages 18 and up – All Minors Will Be Charged an Additional $5 At the Door. 17 & Under Admitted with Parent or Guardian Only.
Buy Online to Guarantee Entry for Ruben V today!
Ruben V
"The power of music is amazing. I've known my whole life that this is what I've wanted to do and I've had confirmations at every step that this is what I'm supposed to do."
Ruben V is an accomplished artist. He's released eight solo CDs, 14 group albums and averages over 120 shows a year. He is a guitar player, songwriter, producer and family man. He's built a huge following of Ruben V Band fans – all while keeping a sense of humor and a genuine Texas charm.
But first and foremost, there is the music. It's a fresh, smooth blend of blues, Latin, soul, and rock. It's an ambitious mix of the music that moves him and in his skillful hands, becomes a truly energizing and enjoyable experience. The result is stylistically different from his peers – it's alluring, soulful, fun and mature. As he says, "it's everything I love about music."
For a man who would turn out to be such a celebrated guitar player, Ruben was self-taught – old school style. "I would slow down our old 45 albums on the record player and learn that way. I was also front and center at every concert – watching and listening. Then it was just hitting the road. There's no better way to learn." Hitting the road began at 15 for Ruben, who played in a string of bands and eventually landed an Indie record deal with his heavy metal band, Final Assault. The unexpected death of a friend, the band's bass player, brought everything to a halt for Ruben and he began questioning his direction. Again, it was music that pulled him back in. "I was in a dark time in my life when I saw Stevie Ray Vaughan in concert. It was the opposite of the heavy metal bands that were defining the time. I wanted to play Stevie's kind of music – to bend a guitar string like that because that's what I felt." That performance is what drove him back to writing and playing, but this time, he surrounded himself with his brothers and the group began touring clubs in the area. As time passed, the shows became bigger and the four albums they put out became heavier, but, again, that sound wasn't what Ruben had envisioned for himself. Forced to confront the different directions the brothers were heading, Ruben parted ways with the group to pursue his own musical path – one that was true to him. That becomes the essence of Ruben V's music.
Live Entertainment at Supremes
Looking for some live entertainment this Friday night?
Head to Supremes Sports Bar (820 San Pedro Avenue San Antonio) this Friday Jun 5 from 7 – 11:30 p.m. for live music from A Farewell to Nothing, Subsidium and AO River.
This event is for fans 21 & over. This is a limited capacity event due to coronavirus restrictions. Tickets are $6.
For more information, please visit https://www.facebook.com/events/689592078280474/.
Walk on the River 2.0: The African Influence
Experience Walk on the River 2.0: The African Influence in San Antonio TX, Online Documentary Screening!
Join us Sunday June 7, for an online screening of "Walk on the River 2.0: The African Influence in San Antonio, TX."
As the first civil settlement in the state of Texas, there are a ton of historical sites and legendary tales that have helped to shape the culture of our community. In the original documentary film Walk on the River: A Black History of the Alamo City we shared the African American experience from the time of Emancipation (roughly 1865) to Integration and the end of Jim Crow segregation (roughly 1965).
In this second installment, Walk on the River 2.0 we speak about the presence and influence people of African descent have had in this area before and during enslavement, including:
-The African Presence in the Americas before Columbus
-The Moors in Spain
-Blacks at the Battle of the Alamo
-Slavery in San Antonio
-Emancipation Celebrations in Texas (Juneteenth)
-African Symbols in the city… and more
Most people don't realize that African Americans were present at the battle of the Alamo or that there were Black survivors freed by the Mexican Army. Neither do many realize that there were slaves sold downtown in Alamo Plaza or that it is documented that city officials bought and sold enslaved Africans. We reveal this history and so much more in this 50 minute documentary film.
Walk on the River 2.0 features interviews from:
-Mario Salas – Historian, Professor, Former City Councilman
-Ramon Vasquez – member of the Tap Pilam Coahuiltecan Nation
-Nettie Hinton – Community Activist
-Dr. Runoko Rashidi – Author, Lecturer, Scholar …and more
ONLINE VIEWING
The Screenings will take place online using the ZOOM platform.
Once you've purchase your ticket, you will be sent an email with a link to the event.
**On the day of the event you will be emailed a reminder with the time date and private link.
After the movie is completed, we will host a live Q&A session with the producer and director of the film, where you will be able to ask questions and post comments about the movie.
COST
**The price of this event? You choose what its worth to you. We are using the honor system for this online screening, so you are able to pay what you would like – $1 or $100 it is totally up to you.
____________________________________________________
This feature length documentary film is produced by Aundar Ma'at and directed by Born Logic Allah for Melaneyes Media LLC. Walk on the River 2.0: The African Influence in San Antonio, TX is a proud recipient of the 2019 San Antonio Local Filmmakers Grant presented by the San Antonio Film Commission.
For Inquiries and Sponsorship Opportunities, Please Contact:
Logic Allah
TEL. 210.560.1733
EMAIL: melaneyes3@gmail.com
For more information, please visit https://www.facebook.com/events/1209606419370939/.
Stay tuned to OnSanAntonio.com, your site for fun, free, local entertainment for upcoming events in our weekly column, FUN10, every Sunday!
#Fun10SanAntonio
Tess Abney is a freelance writer who was born and raised in the Quad Cities. She spends most of her time attempting to successfully raise three boys. In her free time, writing is her passion. Whether it is sharing local events and businesses with readers or sharing her thoughts on life, she finds comfort in the way words can bring people together.